Employment in the United States technology sector continues to grow at historic rates, according to a recent CompTIA report, which tracks job postings and hiring activity by location, employer demand for emerging tech skills, and more. In this article, we'll look at a few highlights of the report in order to better understand the current tech job outlook. 
Overall, the latest report indicates a strong increase in job postings from January to March 2022, as shown in the accompanying image from CompTIA.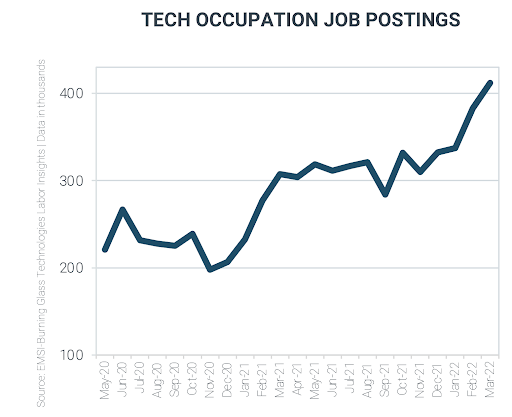 During that period, job posting activity was highest for the following job titles:
Software Developer / Engineer 
IT Support Specialist 
IT Project Manager 
Systems Engineer / Architect 
Network Engineer / Architect 
The top tech positions for remote/WFH job postings were: 
Software Developer / Engineer 
IT Support Specialist 
Network Engineer / Architect 
IT Project Manager 
Web Developer 
According to a CompTIA article examining job opportunities, most new tech jobs occur in the following industries:
Professional, scientific, and technical services
Manufacturing
Finance and insurance
Information
Retail
The following U.S. metro areas showed the biggest increase in job postings:
New York City
Chicago
Atlanta 
Philadelphia 
Charlotte
Miami
St. Louis
CompTIA's report coincides with the U.S. Bureau of Labor Statistics Employment Situation monthly labor report, which also measured notable gains in the professional and business services sector (including tech).
For more information, check out the resources below.
Learn More
Ready to find a job? Check out the latest job listings at Open Source JobHub.